Bad clients – how to spot them
by Leo Wiles
22 August 2014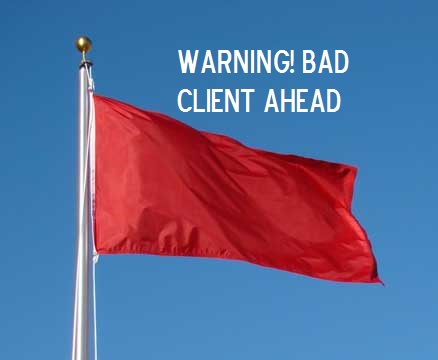 In the past we've written about how to fire a client without being burnt, but the reality is it's much easier if you don't end up with one in the first place. Why? Because, no matter how desperate you are for work, the price on your physical and mental wellbeing is way too high.
Sadly however, there are no mandatory tattoos for bad bosses or crap lovers (although I'm willing to start a petition for both!), so how can you spot them before it's too late? Here are my top warning signs that there's danger ahead:
• They fudge the brief – If they don't know what they want then you don't have a snowflake's hope in hell of delivering.
• They send your BS needle into the red zone. If you're getting a bad gut feeling, listen to it and walk away.
• They haggle, even though your quote is fair and they previously agreed to it.
• They start adding in extras such as supplying social media versions, yet don't mention additional money.
• They act like they're doing you a favour by hiring you and you somehow owe them.
• They tell you they could have hired a communication and media student to do this role. Hint: let them!
• They change the contract and act like it's not a big deal.
• They badmouth your predecessor or other colleagues.
• They offer you the job without telling the person you're replacing that they're fired – true story folks.
• They play the blame game where everybody else was at fault but them.
• They call before 9am or after 5pm and expect you take their call or answer their email pronto.
• They have a bad rep. If you're not sure of someone or have a bad feeling about a client before taking on a job, use your network to see if anyone has worked for them before.
Ever stumbled on a bad client? What would you add to this list?
Leo Wiles has worked as an editor, journalist and PR for over 20 years before recently retraining as a photographer. These days, she spends her time behind a lens, juggling her own clients with her work at Rachel's List, and her three gorgeous but lively kids.
Latest posts by Leo Wiles (see all)