8 online stationery stores you'll love (if you don't already)
by Claire Chow
10 September 2021
I'm a sucker for stationery. From illustrated notebooks, hand-made cards to gel pens and cute sticker packs, my fascination started way back in the 80s. As an 11-year-old, I was obsessed with the never-ending scrolls of stickers and novelty stationery at Granny May's (it went bust in 2001, but I'll always remember spending my hard-earned pocket money there – and snickering at the adults-only section).
So, for a stationery nerd like me, researching local online stationery stores was like disappearing down into an Alice in Wonderland rabbit hole of planner addicts, life-affirming notebooks and washi tape. And, from ultra modern to Japanese-cute, here's our guide to getting your online stationery fix…
A very proud Australian owned and female-run design business, Corban & Blair have collections including Australian Made, Artist Collaboration and custom-designed. If beautifully made artisanal leather compendiums, journals and desk accessories are your style, check out their online shop or if you're in Sydney, their HQ is just around the corner from Rachel's List, in Lewisham.
Starting as a dining room hustle, these guys have aced the online stationery world. This is your go-to place for bullet journals, goal-setting, all manner of pens and while you're there, take a squiz at their own Studio Milligram brand. Melbourne readers, you might want to check out one of their bricks and mortar stores.
Scratch and Jotter offer a unique way to shop for stationery online with curated collections for the Doer, Dreamer and Thinker. The fountain pen collection is old-worldly yet modern and the diaries ready for monogramming have a real luxe feel (hello best friend's Xmas present!)
Not limited to stationery, this Japanese brand offers up everything from clothing, homewares and furniture. I first discovered Muji in London and loved their sensible and affordable notebooks, sketchbooks and gel ink pens. 20 years on, Muji's minimalist style remains, but now you can get your fix online too.
Not for the faint-hearted or minimalist, visiting Washi Gang's online store is a colourful treat to the senses. Their fun stationery collection includes journals, notebooks, tapes, pens, stickers…they even have a specialty Japanese section. They stock The Happy Planner series and even have a Facebook Group dedicated to the love of stationery!
This super inappropriate but hilarious stationery collection is for the black-humoured readers. For those of you not into happy, happy, joy, joy messaging you might get a kick out of their black A5 notebooks. My favourite: 'My Little Book Of All The F***** Passwords I Have To Remember' Notebook.
If #DreamBig is your kind of hashtag, MiGoals is made for you. With themed bundle packs these guys are all about tracking goals, gratitude, fitness and productivity with a whole stack of notebooks, planners, journals and desk pads.
Pushing the definition of 'stationery' a little, I know, but InkyCo is worth mentioning for their gorgeous paper goods including wrapping and tags. Spruce up your home office with a wall print or think outside of the square and frame your favourite paper, like 'La La Llama' or 'Flora Australis'. (All items are 100% designed and printed in Australia).
We've only covered Aussie-based online stationery stores here, but if you love stationery as much as we do and have a great store you think everyone should know about, hit us up in the comments!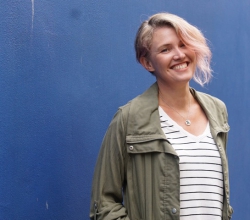 Latest posts by Claire Chow
(see all)