6 Sydney libraries I love to work in
by Rachel Smith
11 September 2019
Updated Sept 2019
As a kid, a much-loved weekly event involved trooping off to Mona Vale Library with my mum and my siblings to borrow a stack of books for the week. And as an adult, discovering just how many great Sydney libraries  there are has become something of a passion. 
I could bang on all day about why I love a good library, but in short, the change of scenery from my home office is top of the list. It's also easy to recharge my gadgets and I don't feel guilty about taking up a table (unlike at a cafe). There's free WIFI if I need it. I don't have to talk to anyone, but I am surrounded by people, which is its own kind of companionship. And I get a LOT done in such beautiful, inspiring and nostalgic surroundings.
My criteria for a good library? Lots of natural light. Access to a decent cafe. Cheap or free parking that's not too far away – or a handily located train station. And well-thought out desk placement with power sockets. It doesn't take much to make me happy. (Friendly librarians are just a bonus.)
Here are some of my favourite Sydney libraries to work in.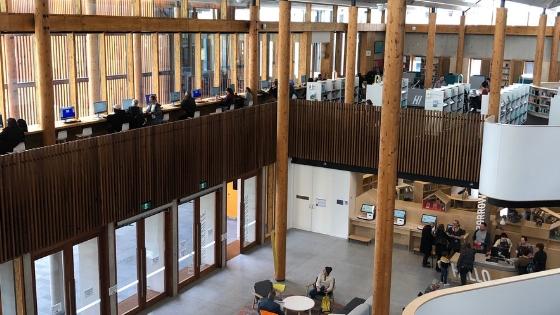 Brand spanking new and stunningly beautiful, the new Marrickville Library (built on the site of a former hospital) is set to become an absolute hub for inner-west freelancers seeking a new 'l'office'. Warm, welcoming and full of natural light, the library has cosy nooks around every corner. There's a landscaped garden and sunny balconies where you can take a cuppa and soak up some rays between filing stories. The timber interior offers three levels and a multitude of spots to sit and work, whether you choose a bench and stool overlooking the library's light-filled main lobby, grab a chair at a large communal desk or plonk down on the padded 'steps' (which even pump out heat). There's a great cafe too with floor to ceiling windows, conveniently located inside the library itself. Definitely worth a visit!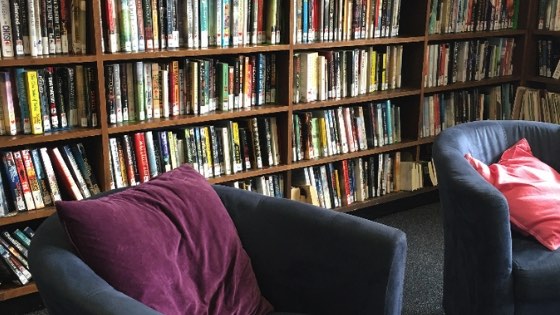 As libraries go, teeny-tiny Stanmore is very unassuming on the outside – it looks like a big black shipping container plonked in the middle of a park. Inside, however, the walls are lined with books and magazines and there are comfy armchairs and couches. I love the long work desk by the floor-to-ceiling window, even if it does get a bit bright on sunny days. Because it's so small, you're not always guaranteed a seat and it can also be noisy with school kids and sometimes even barking dogs that pop in. But the librarians are very chilled about all of the above and it feels like a warm, friendly home office away from home (for me anyway).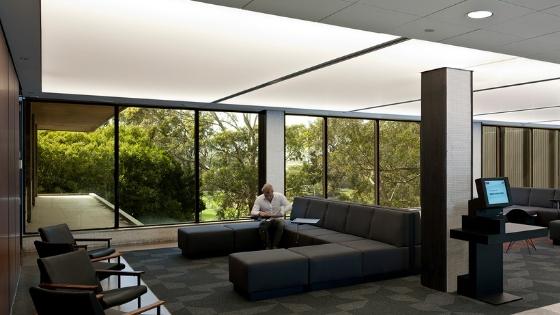 I only really got to know Sydney Uni when I moved nearby and used to cut through the grounds on occasion. Then one day a friend suggested we work in the library for the day. It was love at first sight. So much space. Lovely views of the city or of Sydney University's Grand Hall. On hot days, Victoria Park pool is 2 minutes walk from the library. The cafes on campus are ok but for more choice Broadway and Glebe Point Road aren't far. Downsides: parking in the uni is expensive and you don't EVER want to nap in the library's cosy-looking sleep pods. Very very stinky.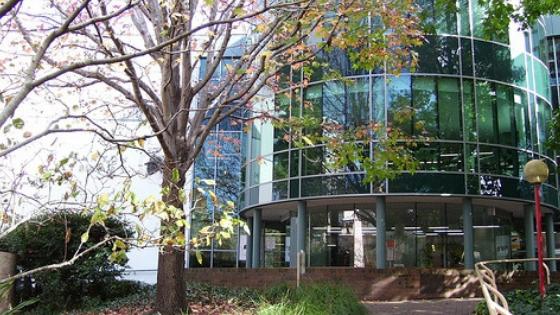 It looks like a big glass box flanked by trees and cafes on approach, and inside, this gorgeous library on the hill above North Sydney is a bright, spacious place to unpack your gear and get into the zone for a day. There are lots of areas to sit and decent cafes and restaurants nearby. There are even a couple of parks where you can get some Vitamin D at lunchtime. Parking is 2 hour for the most part.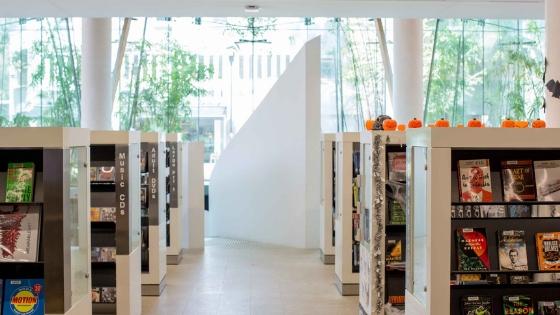 Naturally, this library was only built AFTER I lived in Surry Hills – dammit! It's just the best library ever. The long communal desk at the front window offers a heap of power sockets, good light and some fantastic people watching for when you need to take a break from the screen. Or, you can grab one of their funky curved swivel desk/seat things – or find a cosy spot downstairs among the books. Bliss. Only con is the parking. I would take the train to Central and walk up Devonshire or Foveaux Sts instead of bothering with that bollocks.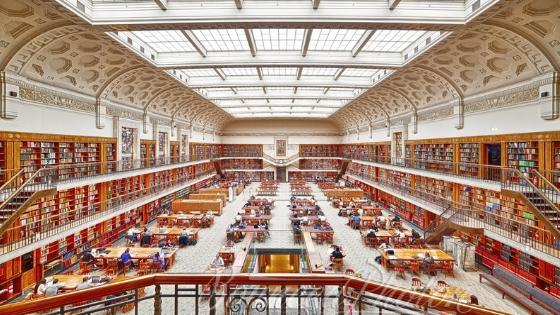 It's easy to get to (Martin Place or St James train stations are closest) and is full of areas to work in – whether you choose the Govenor Marie Bashir Reading Room, The Verandah or the enormous Mitchell Library Reading Room with its stunning stained glass windows, and walls of books. Perks include free WIFI, a tempting bookshop and regular art. Last time I was there the exhibition was May Gibbs and Snugglepot and Cuddlepie, which was a gorgeous trip down memory lane… all the way back to Mona Vale Library and my childhood reading choices!
Love Sydney's libraries as much as I do? Share your favourite!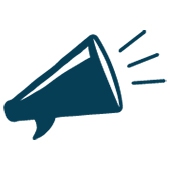 Latest posts by Rachel Smith
(see all)