Good #WFH freelance habits (and a few you might want to break up with)
by Claire Chow
17 September 2021
Let's face it, working from home is not new for us freelancers! We are well versed at creating habits in order to efficiently work just about anywhere and have embraced the business-on-top, party-on-bottom style for video calls. And with this pandemic, working from home could be here to stay. 
Inspired by Rachel's blog, 11 good (and bad) habits I've picked up working from home, we did a shout out on our Gold Community FB group to see if habits have shifted over the years … and whoa, you guys are a productive lot! Here are some awesome #WFH habits to keep you motivated.
Start the day right
Hitting the snooze button isn't an option for many of our Rachel's Listers. 'Always get up at the same time, shower, dress and eat to start the day right,' says Row Murray. She's not alone: Lynne Testoni has her morning routine down pat with early morning exercise, taking her pooch for a walk and grabbing a coffee, all before her 8am start.
Nicola Conville McDonald also recommends spending the first half-hour of each day clearing emails and then 'blocking out writing time and breaks' to avoid interruptions. Even morning ritual rebel, Stuart Ridley, has found a routine of coffee, tidying up and a Facetime workout with a mate helps him 'wake up every freaking day'. (Love your passion, Stuart!)
Get physical 
(But not in the Olivia Newton-John kind of way.) Some of you start the day motivated with an early morning walk or Pilates session. Others use movement and exercise as a way to reset.
Bryan Castillo, Gold Community regular, reckons he'd be in bed all day if he didn't commit to a 30-minute workout, while Nigel Bartlett finds his exercise routine has helped in 'reducing the stress and mental load of being glued to a screen all day'.
Focus on productivity
Procrastination seems easy to fall into when working from home, so a few of our Gold Community had some productivity tips on getting on with it. I'm loving Lisa Cugnetto's habit of switching off emails or leaving her phone in another room when she has to 'power through or really focus on a task'.
And then there's Rhonda Chapman's strict habit of placing her phone on silent 24/7, 365 days 'except when expecting a call from someone or authority who is super duper important'.
Get into the zone with music
When I first sit down to work each day I'll often choose a playlist to suit my mood – this one has been on repeat the last week or so.
And as it turns out, I'm not the only one who zones in with music. Maria Salvador, aka DJ Maz, has introduced her 'pretend work colleague' (her partner) to Spotify lounge music.
Dress for your day (or not)
The beauty of working from home is you really can wear anything! I, however, find I am more productive when I feel good in what I'm wearing. Alison Hallworth has a 'waist up wardrobe' which means she's 'business at the top and jeans/ugg boots down below. and always ready for any Zoom meetings or presentations.
On the flip-side, Emma Lovell reckons she's far more effective when she just gets on with her day, even if she's still in her PJs!
Take a proper lunch break and get outdoors if you can
Reset with a proper lunch break. Even better, take your break outdoors. Penny Carroll and partner (who is also working from home) 'go down the street for a coffee mid-morning which has become a nice ritual with the added bonus of getting out of the house'.
Monique Ceccato and her partner have gone a step further and sometimes take a drive for a BBQ lunch. And while some meals may fall into the sad desk lunch category, take some time to throw something delicious together with leftovers or treat yourself to pimped up 2-minute noodles! 
Knock off at the same time
Establish work-life boundaries and a time each day to knock off – you'll feel so much better for it. I recommend setting an alarm or reminder in your calendar for each day to ensure you finish up at a certain time.
Another great tip from Kate Reid is to close the door to your office (if you have one) as this simple act of closing that door will enable you to transition into a new space of home-life. 
A few habits you might want to break up with (or not, depending on your mood):
Watching daytime TV
It's so easy to take a break from work and channel surf but do not get sucked into daytime soaps and morning shows dedicated to Thin-Lizzy and bargain slow cookers. Before you know it, many hours may have passed you by and a deadline missed. (Not talking from experience, of course!) 
Stress eating
What is it about working from home that makes stress eating a hard habit to crack? Maybe it's because the fridge is only a few steps away but if you are prone to snack attacks here's my tip: Reach for a big glass of water first and then a nice piece of dark chocolate. It has the same feel-good impact, but it's richness means you'll eat less of it. 
Working from bed
Working from your bed (or kitchen bench / couch /  floor) is not ideal for your posture, but I love the attitude of Lisa Smyth who initially thought working from the bed was a no-no but finds 'sometimes 'bed days' are my most productive of all!'. Whatever works, right!? 
Thanks to all those who commented in the Gold Community Facebook Group. (If you're a job seeker, you too can be a part of this engaged group. Just make sure you're an approved, paid up member!)
What working from home habits do you have? Weird and wonderful habits welcome in the comment section below…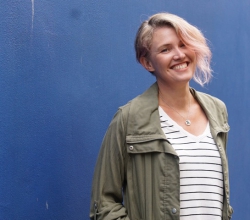 Latest posts by Claire Chow
(see all)