Shocked by the survey's average pay rates? So were we.
by Rachel Smith
21 September 2016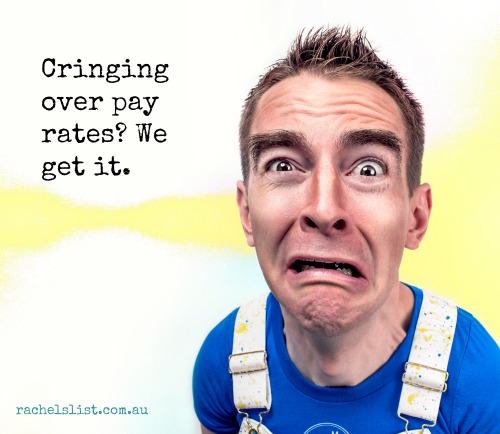 Our survey results came out last Friday and we were expecting a bit of debate over the average pay rates in the infographic. Boy, did we ever get it! For those of you who provided feedback, thank-you. It was great to see how many invested freelancers are out there who were just as surprised about the average pay rates results as we were.
That said, we don't want members to feel disheartened by what may, to many freelancers (especially well-established or well-earning ones), seem like very low pay rates. You're still in the driver's seat and you're still able to negotiate – and you should. You're still able to walk away from jobs that pay under market rate or require you to work for someone who clearly doesn't value what you do / is always trying to bargain you down. And you should.
But, that all said, there was such interest in the survey and the rates posted, we thought we'd use the next few posts to go back and give you a bit more of the bigger picture.
Word rates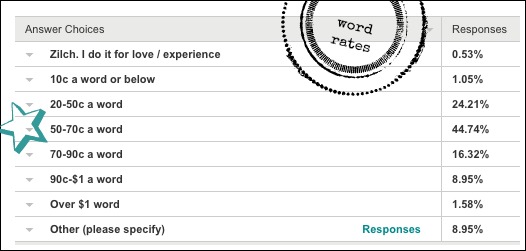 So, starting with word rates. While the average – close to 45 percent – earned 50-70c/word, 16.32 percent earned 70-90c/word, and close to 9 percent make 90c-$1/word. These higher word rates may be rarer, but they're out there. And, good to see the MAJORITY of writers in general who answered the survey are earning above 50c/word. Boo-yeah.
Comms / corporate writers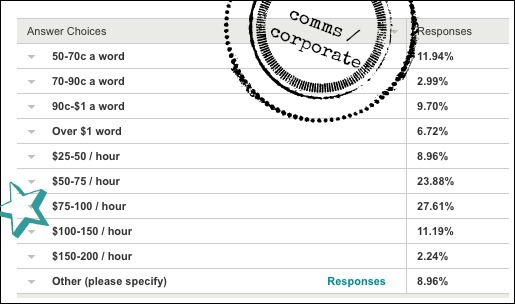 The majority, as we mentioned in the infographic, earn $75-100/hour (close to 28 percent). But how about the rest? As you can see, 23.88 percent earn less – $50-75/hour, while just over 11 percent command $100-150/hour – which is where we'd expect it to sit. Just 2.24 percent earn $150-200/hour, although we did have someone in the comments tell us they're paid $250/hour. Nice one.
Copywriters

These rates seemed to send a lot of copywriters into a spin and understandably. However, while we feel there's a difference between agency-trained copywriters and journalists / writers who edge into copywriting because they can, charging $50-60/hour for copywriting IS too low (the majority, close to 17 percent of respondents, charge this). So it's good to see that the next largest percentage, 10.62 percent, charge $80-90/hour, and 6.19 percent charge $100-150/hour. That's closer to where you want to be aiming your rates for copywriting. (Kate Toon from The Clever Copywriting School, shares her rates for junior, mid-level and senior copywriters here.)
Proofreaders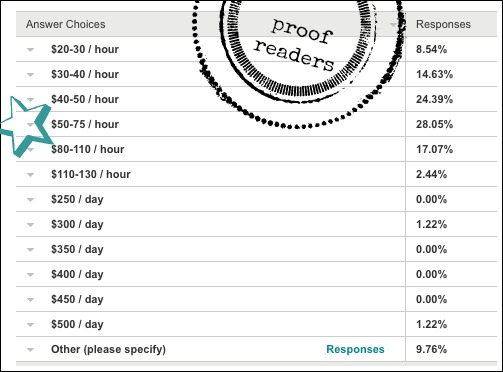 Proofreading, too, seems to have a bit of disparity, with some charging $40-50/hour, the majority (28 percent) charging $50-75/hour and the next bracket, 17.7 percent, charging $80-110/hour. Again, this is a specialist skill and it warrants those higher rates.
How did you feel about the pay rates survey? Did you answer it? We'd love to hear from you in the comments. And stay tuned for Leo's Friday post about annual earnings with more insights from the survey results.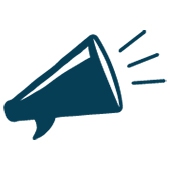 Latest posts by Rachel Smith
(see all)