6 Melbourne libraries you'll love to work in
by Carrie Hutchinson
06 August 2021
Any Melburnian will tell you this for free – we've spent an indecent amount of time working from home over the past 18 months. Now that we are back out in the world (at least most of the time), there's an eagerness to see other faces even if you don't know them. In the time some of us now know as BC (before Covid), the local cafe was a popular spot for decamping with laptop. But hospo's done it tough so taking up a table for hours won't exactly make you popular.
Which of course brings us to the library, a place where you're expected to sit quietly for hours on end. Ain't no one there going to give you dirty looks in the hope you'll move on. In this UNESCO City of Literature, there's no end of libraries from which to choose, but here are a few suggestions of ones myself, other Listers and freelancers like to go when we need to get a job done.
In the CBD, State Library Victoria is an obvious choice, but there's way too much good gear there for anyone who is easily distracted. There's the millions of books, of course, but also gorgeous architecture, galleries, tours and a book shop. Instead, if I have some time between meetings or fancy a few hours in town, I go to this spot on Flinders Street. There are heaps of corrals and reading spaces, it's cosy and quiet, and the staff members are friendly and helpful. Oh, and Journal, the cafe on the ground floor, is a great place to get a coffee and Portuguese tart.
This is another incredible city space with a real Scandi vibe. Think three storeys of sustainable glory – it was Australia's first 6 star Green Star rated public building – with reading spaces and study areas spread throughout. There are even meeting spaces and a recording studio with editing facilities available to hire. This is a favourite of Sydney freelancer John Burfitt when he's visiting. "It's right over the water," he says of the Victoria Harbour spot. "And just a beautiful, beautiful place. I'll definitely go back there next visit."
Not only is this 1990s mud-brick building a magnificent piece of heritage-listed architecture, but it's also set in bushland on the river. In fact, staring out the windows watching the birds and possums could prove less than productive. As could the foyer area where the works of local artists are on display. Head upstairs where there's good lighting and plenty of desks where you can put your head down, or set yourself down in front of the fire in the reading lounge.
It's only a few hundred metres from the beach, so if you're someone who thrives on fresh air and movement to get the brain functioning and good half hour on the sand beforehand might be the ticket. It's another one for architecture lovers, with Enrico Taglietti's Brutalist 1971 design extended in the 1990s by ARM. The main work area has clerestories and frosted skylights, which offer natural light without distraction from the outside world. There's still a real 70s vibe to the place, but the chairs can leave the nether regions feeling a little numb.
Bus stop out the front? Tick. Free wifi? Tick. City views? Well, not exactly necessary, but it's another tick. A favourite with Lister Danielle Norton, this three-storey, modern library has places where you can work bathed in natural light, read and stare out the window, or meet around a larger table. The architects kept the kids' section on the ground floor here, which is great news for anyone normally distracted by story time. Bonus points for the on-site cafeteria.
When I lived down the road, this was one of my favourite places to work. It's a small space, but cosy and comfortable, with a lovely aspect over the park across the road. The kids' area is quite open, so bring your headphones if you need to cut out the noise. There's a great selection of magazines for when you need some inspiration.
Most Melburnians would know the Athenaeum Theatre on Collins Street, but might not be aware of this gem above it. Opened in 1839, this private library is a glorious place to work in the city. Membership is $99 a year, and includes access to the library's excellent collection, regular music performances, talks and book and screen clubs.
What did we miss? Hit up the comments and tell us your favourite Melbourne libraries to work in, if you can't find them in this post.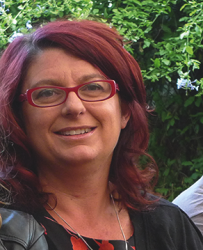 Latest posts by Carrie Hutchinson
(see all)