So you think you can… be a UX writer?
by Laura Luck
12 November 2020
How good are buzzwords? Things like synergy, silos, disrupt, innovate, and… user experience (UX). Oh, awkward! That last one is what I'm here to chat about today. And turns out, it's not actually a buzzword. Hooray!
In fact, if my LinkedIn data is anything to go by, the term 'user experience specialist' is the top search term used by hiring managers and recruiters to find my UX writer profile. And look – with the surge of SaaS and tech companies (and even traditional businesses) creating digital products to reach a broader audience, it's no wonder that creating delightful user experiences is on everyone's mind.
But what-in-the-what is UX?
UX is the interaction and conversation your product or site has with a user, and the emotions they have towards your brand while they're using it. From the moment they get onto your site or download your app, while they're using it, and then to infinity and beyond.
UX applies to everyday things, and then started showing up in product design and engineering. In the last six or so years, an emerging need for UX writers and content strategists has exploded onto the scene as people realised that design without content was kind of… sad.
Enter: UX writing
UX writing is the sweet spot for about 25,000 people on the planet already. Which means, there's likely more jobs out there than there are UX writers to fill them. And it's only going to grow.
It combines elements of design, product knowledge, research, data, collaboration and of course, writing chops to solve a problem.
And y'know, the pay ain't bad either. According to the survey run by the UX Writers Collective in 2019, the average salary of a UX writer in the United States is USD $126,000 (I would say it's slightly less in Australia as the field is slowly growing).
If you think that sounds pretty good, read on to see if UX writing might be something you're keen on – and also if you've got what it takes.
What is UX writing?
Us UX writers can go by many names, even if that means the role description differs slightly. You may see someone doing this kind of work referred to as: UX writer, content strategist, product content writer, content designer.
We generally sit on a product team, along with product designers, user researchers, business analysts, product owners and occasionally engineers and product managers.
We are just as invested in the overall user experience design of a product or site, but our medium for this design is words.
But isn't it just microcopy?
A lot of people think that UX writing is the equivalent of 'microcopy' (these are the teeny messages you see on a website or app, like form labels or the copy on empty state screens). And to that I say: heck no! The actual writing is but one part of the job.
Usually, it's not uncommon for a UX writer to be responsible for: basic user research, developing a product content strategy, writing, workshopping and testing copy, creating content governance guides for style, internationalisation and voice and tone, and then training other team members to follow it too.
A day in the life
This role wouldn't suit someone who doesn't like to work with others. On any one day, we are constantly communicating back and forth via Slack and Trello, discussing the work in project WIPs and standup meetings, having longer video calls with other teams in engineering, marketing, data and usually a lot of 1:1 collaboration with product designers.
Daily writing workflows could cover a combo of: product content (like help centre articles and other technical writing and customer emails), technical writing, macro templates for our support system, user interface (UI) words like microcopy in forms or error messages, pop-up Appcues or banners.
So you can see in my case, the work is so varied – which makes it so special!
(But keep in mind that in some organisations with larger teams, you could have a 1:1 ratio of product designer to UX writer, which means you may be working on one piece of the product and owning the process end-to-end, with less variation in the work.)
What makes UX writing good?
There's a few principles to follow for good UX writing:
Focus is solving problems for users, helping them complete an action and moving them through your experience.
The language and messaging is clear, concise and useful (thanks for coining that, Google!).
Helps users complete an action.
Has active voice over passive voice, and the messaging is front loaded with the most important information first.
It's in context of the rest of the product flow (what does a user do before or after this particular screen?)
Avoids negativity or blaming the user for errors – the goal is to give them good feelings towards your organisation.
It's kind, inclusive and accessible.
It isn't ambiguous or leads users down a 'dark pattern' (sneaky design or wording that isn't in the best interests of users)
Would you be a good fit for UX writing?
It definitely helps to be interested in or have a design background, but it's not completely necessary. More than that, it would be helpful to learn product design principles so you're on a level playing field to have better conversations with your design team.
I've found the best way to learn has been on the job practice – but now there's some really awesome courses by the good folk at the UX Writers Collective. Rachel's List also has a UX copywriting masterclass with UX copywriter Susan Reoch that's well worth a look.
You won't like being in this role if you love using flowery language or clever catchphrases. I recommend sticking to traditional advertising copy if that's your jam!
UX writers are generally interested in customer research and documenting their processes (like developing tone and voice guides). This helps to explain your work and stick to your guns later on – by showing rationale and reasoning.
Now get to work
If you're interested in getting into this line of work, there are a few avenues you can take to school up:
Read the books. I recommend Writing is Designing, Content Design, Strategic Writing for UX.
Take courses and build genuine connections (I've found people who work in this field are authentic, genuine and kind). UX Writers Collective hands down have the best courses available for UX writers.
Expose yourself to good and bad UX. It's everywhere!
Do the Daily UX Writing Challenge and then redesign and rewrite apps on your phone. This way, by the time you're ready to take on a role or interview at a company, you've got tangible examples to share (even if you don't have paid work under your belt).
As mentioned earlier, a collaborative and adaptive personality is probably the most important trait to have if you're thinking of getting into UX writing.
You've got to be the type of person who can roll with the punches, because project scopes can change quickly (especially in startups). No two days will be the same, but if you're anything like me, you'll enjoy every second of it!
Are you a UX writer? Tell us how you got into the industry and your experiences…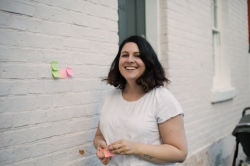 Latest posts by Laura Luck
(see all)