So you think you can… be a white paper writer?
by Rosalyn Page
08 October 2021
It may not be the flashiest way for a content writer or journalist to earn a crust, but if you're a fan of longer-form writing and nerd out on data and research, now's a great time to consider becoming a white paper writer.
At one time, white papers were the sorts of documents policy wonks got excited about, but they have broadened in scope as more brands and businesses look to develop their own content stack to market themselves. As part of this, white papers have become a valuable tool for organisations to show how and why they're solving challenges or have deep expertise in certain areas.
I'm marketing speak, white papers are often used as 'lead generation'; intended to attract potential prospects who may eventually turn into customers. It's the prize for submitting an email address that puts the person's details into the system as a potential sales lead.
White papers typically involve quite a bit of research and, as well as the writing, they can run into numerous rounds of edits as they're used as a calling card to demonstrate the organisation is an expert in the particular topic. So there's a lot at stake in the final product.
With that said, there's plenty of reasons why, as a freelancer writer, you might want to look at adding white papers to the services you offer. Let's dive in by first understanding a little more about them.
The white paper is dead. Long live the white paper.
With apologies to Mark Twain, the death of white papers has been greatly exaggerated. Every few years, someone somewhere comes up with the original idea that white papers have had their day and that all the cool kids are sharing information on Tik Tok and Clubhouse. Not so.
More than ever, organisations are embracing content marketing to get the word out about themselves and white papers are very much a key part of this. For our purposes, we'll look at white papers as a marketing tool, although that isn't intended to minimise their purpose, just to define the sorts of white papers under discussion here.
Don't just take my word for it. White papers are regarded as a standalone area of content marketing, in the mix in almost half of the content used by B2B marketers over 2020, according to the 11th Annual B2B Content Marketing Benchmarks, Budgets, and Trends report. White papers are more popular than long-form articles, research reports and even podcasts, the report from the MarketingProfs and Content Marketing Institute found.
A white paper, according to a handy definition by HubSpot, is an authoritative, in-depth report on a specific topic that's designed to examine a problem and then explain the solution. It's not intended to be a sales document, it's more in-depth and (sometimes) technical than a blog post – and it has a more problem-solution focus than an ebook. The makeup of a particular white paper will be led by the client, either through the marketing team or through a content manager at an agency or in-house publishing outfit. I've written white papers on cybersecurity to analyse survey results, on enterprise technology and the cost of legacy network systems, the state of cloud adoption, the state of the market in health tech and TV demographic marketing, to name a few.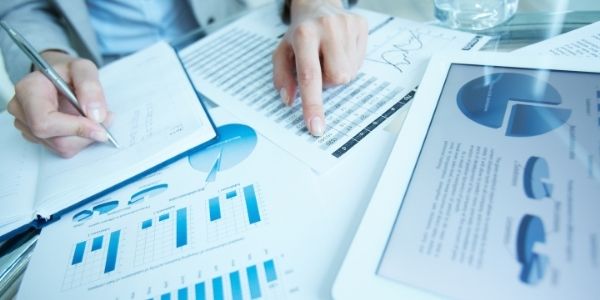 Does the world really need more white papers?
From my experience, marketers love white papers. They're an opportunity to show off the expertise of their organisation with rich detail and data. Think sexy graphs and charts, along with real-world case study insights, valuable technical information, survey analysis and so on.
A white paper is a way to demonstrate an organisation's service or product expertise by canvassing topical issues, analysing the state of the market, taking a snapshot of the industry, discussing future trends and changes.
White papers are often used in B2B marketing, particularly where it involves technology, which is my specialty. More and more technology is involved in pretty much everything, which could push a lot of writers into having a sub-niche in tech. The ongoing 'techification' of almost everything is quite likely feeding the demand for white papers to help explain a certain type of tech and its applications/purpose.
So, can YOU be a white paper writer?
If you're a versatile writer, who doesn't mind (or better still enjoys) writing on topics in a way that can be slightly dry, then you too can add 'white paper writer' to your CV. One of the things about white papers is that they're as varied as the topics they can cover – technical, scientific, medical, financial; you name it.
Some white papers will require a reasonable degree of specialist knowledge, especially those related to certain fields, so if you're a generalist writer, these will be challenging and could take a considerable amount of time in researching and getting up to speed on the area.
I wouldn't advise someone who's a generalist writer to take on a very technical white paper, at least not to begin with, because you may get into a difficult situation in trying to get across the subject matter.
Why you'd want to be a white paper writer:
There are benefits to having a single, large project to work on
You have an ability to charge at the higher end of the scale, particularly for technical or specialised topics
You enjoy research as much as writing and getting stuck into a topic
Writing straightforward copy that doesn't necessarily need style or personality is your bag.
Why you don't want to be a white paper writer:
You're put off by the challenges of a large project including the fact that it can chew up too much time
These projects can run into rounds of edits and loads of changes
You may need some specialist knowledge and you're happy being a generalist
The writing can be a bit dry and dull
You may need to be comfortable with surveys, statistics and data for some types of white papers
White papers can involve many stake holders and project milestones involving spreadsheets to keep track of things.
The dreaded 'what to charge' question
A rough guide to charging for white papers is about $1 a word. This assumes a reasonable amount of research and/or interviews, writing time and up to two rounds of edits on a topic where you may need some expertise or knowledge.
But – and there is a but here – this is by no means a standard or uniform rate. For instance, I've worked on white papers that are mostly writing up an existing survey or data analysis that has paid less than this. Agencies may negotiate an hourly rate, while in-house content teams which are part of editorial publications may offer a fixed price that can be hard to negotiate up from.
On the higher end of the scale, white papers that require specialist or deep knowledge or that include several different components (data, survey, text) or that involve several stage of approval or many rounds of edits, you'd expect a higher word rate than this.
Have a look at this post on Rachel List that discusses how to charge for white papers. I think the figures in this blog are about right for the higher end technical, specialist white papers.
When it comes to pricing, like so much of freelancing work, it's always best to try and get a clear idea about the extent of the research that will be needed, a word count or page count with an outline, likely rounds of edits and than use this with your hourly rate and add in a contingency if you're asked to quote for a white paper.
Then – and this is Ed Gandia's very smart advice – sleep on it. Next morning, review the costing and see if it feels accurate. More often than not, I find my first pricing is usually too low and on second thoughts I need to add a little more as I've got to be realistic about what's involved.
Try not to be fooled by client emails that use words like 'just needs', 'only some', 'a little look' that seem to be designed (not even intentionally) to play down the sense of how much work is involved. You're the one who's experienced in research, writing and editing so don't under-estimate the time these things take, not to mention the inevitable back and forth of emails on a project.
If you're new to white papers, start with subject matter you're familiar with and avoid taking on anything too big until you get some experience with the amount of time it takes.
Want to know more?
It's time to stop writing now, or I'll soon have written a whole white paper about white papers.
If you want to know more, a quick Google search will bring lots (and lots) of white paper-related webpages. Here are a few useful sites if you're looking for some more insight.
Are you a white paper writer or tempted to see if you can forge your way into this niche? We'd love to hear your experiences in the comments. And don't forget to check out the other posts in our 'So you think you can…' series!

Latest posts by Rosalyn Page
(see all)